Accommodation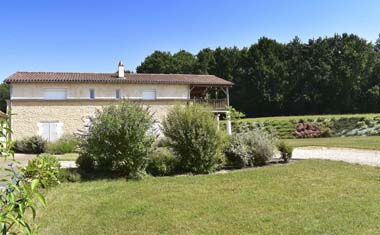 The large old stone built barn has been restored preserving its outside former charm. The 2150 square feet building is independent, nearby the owners' lodging. They will be happy to help you as soon as you need.
The old barn has been transformed into a spacious and comfortable two-levelled dwelling with 4 bedrooms. Each one with an en-suite shower room and separate toilet, a balcony and a sheltered terrace.
Two bedrooms are fitted with twin beds to receive a couple, children or friends. The ground floor has direct access to the garden, the terrace and the car parking place. The ground floor bedroom is fully equipped for disabled people.
The house is decorated with a mix of modern and traditional French country style furniture that matches with the quiet surrounding landscape. You can enjoy the green outstanding view from the large balcony of the terrace.
A heat pump system has been installed to heat the house. It also cools it in summer time. The temperature of each room is controlled separately.
Inside the garden, children can play safely in the large playground, that can be overwatched by their parents from the terrace and the lounge.
Inside the domain, you can enjoy several outdoor and indoor activities: swimming, woodland walks, playgrounds for the children, board games, reading ...
The common areas and facilities
Once parking your car on the reserved parking space, you walk up a small lane to reach the main entrance. Downstairs are common areas, the lounge, the library, toilets and a double bedroom with en-suite. Upstairs there are one double bedroom with en-suite shower room, 2 twin bedrooms with en-suite shower rooms, and a laundry room.
The living room is located on the ground floor with windows facing south and has direct access to the terrace.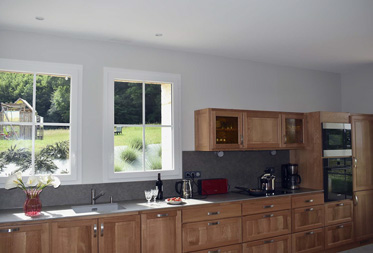 The kitchen area is fully equipped with high qualities appliances: electric oven and hob, fridge/freezer, dishwasher, microwave oven, kettle, toaster, coffee machine.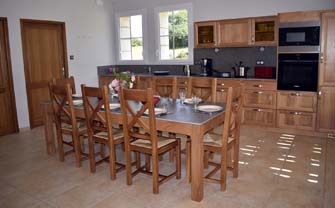 A large 10 people oak table with a ceramic top with 10 oak chairs.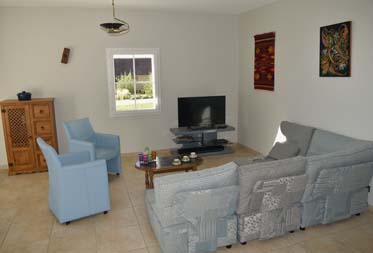 The sitting area has a digital TV & Hifi, DVD player.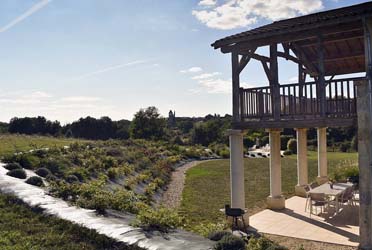 The lounge opens onto the south facing terrace, ideal for relaxing after a day on the golf course or walking, perfect for dining al fresco or just sitting out and admiring the view over a cup of coffee or a glass of wine.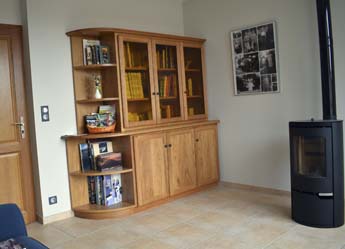 The entrance hall leads into a cosy library room equipped with a lovely wood-burning fireplace for autumn and winter evenings. Flip open a good book or magazine or prepare your next visit, walking trails or cycling routes ...
There is Wi-Fi available at the property.
Washing machine, a tumble dryer, an iron & ironing board in the laundry upstairs are available. We can also provide special conveniences for babies (bed, sheets, blankets, baby highchair, baby bathtub) and cooking equipments for French cooking specialities.
The garden
In our domain, a large outdoor open space is fully dedicated to receive our guests and their family. Children can play safely, on the toboggans, children's outdoor staircases under your watch, in a quiet green place. Close to the terrace, you can also enjoy swimming.

The bedrooms
The four bedrooms have an en-suite shower room, with a walk-in shower and a separate en-suite toilet. The four gorgeous bedrooms have been individually designed to take into account where the sun comes in and which rooms are light and dark in order to achieve the best layout. Wooden furniture and a combination between wall and furnishing colors provide a calm, relaxed and peaceful atmosphere. Very comfortable mattresses, natural duvet and high standard bed linen have been chosen for a good night sleep.
All rooms have views on the old typical Perigordian village and its church.
Bedroom "Arum"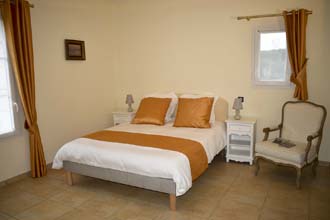 This downstairs room is designed for senior or disabled people.
Queen size bed.

En-suite shower room and WC blue tiles and white painting.
Bedroom "Iris" upstairs with a balcony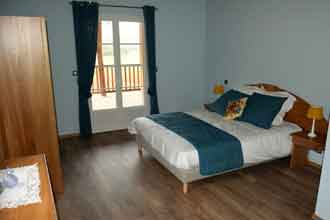 This elegant room is furnished with elm wood.
Queen size bed.

En-suite shower room with orange tiles and white painting.
En-suite WC.
Bedroom "Orchis" upstairs with a balcony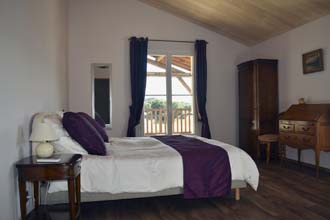 A special quote to the old family secretary and the two beautiful decorative chairs.
King size Bed or 2 twin beds.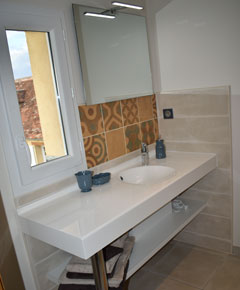 En-suite shower room with yellows and white tiles.
En-suite WC.
Bedroom "Canna" upstairs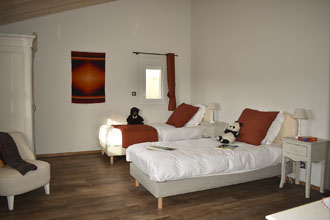 King size Bed or 2 twin beds.

En-suite shower room in blue and white tiles.
En-suite WC.